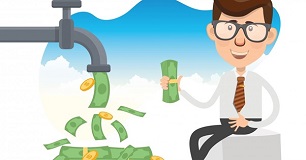 1. Determine your break-even
2. Focus on Cashflow Management, not profits
3. Maintain cash reserves
4. Use a Cashflow Worksheet
5. Collect receivables as soon as possible
6. Encourage Customers to pay faster
7. Extend payables as long as possible
8. Boost sales with creative incentives
9. Monitor Cashflow
10. Contact Blackburn Accounting for your financial & accounting advice. Blackburn Accounting your family business specialists.
If you are experiencing Cashflow problems or simply want to better manage the financial flow of your Business these 10 Top Tips are a lifeline!
Grab hold and follow the steps to help you from sinking!
1. Determine your breakeven point.
This is the point at which total revenue equals total costs or expenses. At this point there is no profit or loss.

2. Focus on Cashflow Management, not profit.
Strategies include;
• Keep your books accurate and up to date
• Adopt simple accounting practices
• Separate Business and personal finances (and expenses)
• Engage a professional Accountant for professional advice
3. Maintain cash reserves
Access to cash will make or break your Business. Always maintain a cash reserve to provide the cushion you need to manage unexpected situations. Even a small amount can help in a time of crisis.
4. Use a Cashflow Worksheet
In a nutshell, Cashflow is the net amount of cash that a company receives and spends during a given period of time. It therefore makes sound business sense to maintain a Cashflow Worksheet to capture the associated Business activities to better manage your financial affairs, including meeting compliance requirements. The Worksheet can be used to monitor and gauge inflows, income fluxes and help to avoid financial mishaps! Think of it as a lifeline for Cashflow Survival!
5. Collect receivables as soon as possible
The sooner your customers pays you, the sooner that money is working for your Business.
Consider adopting a range of payment methods including Online systems.
With the click of a button and issuing of an invoice, the money (payment) can be easily deposited directly into your account. Quick turnaround and easy as, and no waiting for a payment later.
Above are 5 Top Tips to help you survive.
We encourage, follow all 10 Tops Tips to survive your Cashflow challenges!