Blog
Business
Immediate Deduction of Capital Purchases Extension
Temporary full expensing will be extended by 12 months to allow eligible businesses* to deduct the full cost of eligible depreciable assets of any value, acquired from 7:30pm AEDT on 6 October 2020 and first used or installed ready for use by 30 June 2023.
Temporary loss carry-back extension
The loss carry-back measure will be extended to allow eligible companies* to carry back (utilise) tax losses from the 2023 income year to offset previously taxed profits as far back as the 2019 income year when they lodge their tax return for the 2023 income year
* aggregated turnover of less than $5 billion
Digital economy strategy
The Government will provide $1.2 billion over six years from 2022 for the Digital Economy Strategy, to support Australia to be a leading digital economy and society by 2030.
From an income tax, investment incentive perspective, please contact us for more information
Superannuation
Removing the work test for voluntary will allow individuals aged 67 to 74 years (inclusive) to make or receive non-concessional contributions (including under the bring-forward rule) and salary sacrifice contributions without meeting the work test, subject to existing contribution caps.
Individuals aged 67 to 74 years (inclusive) will still have to meet the work test to make personal deductible contributions.
Removing the $450 per month threshold for Superannuation Guarantee ('SG') eligibility
The Government will remove the current $450 per month minimum income threshold, under which employees do not have to be paid SG contributions by their employer. The measure will commence from 1 July 2022.
Downsizing Contributions
The downsizer contribution allows eligible individuals to make a one-off, after-tax contribution to their superannuation fund, of up to $300,000 per person, following the disposal of an eligible dwelling, where certain conditions are satisfied. Under the current requirements, an individual must be at least 65 years of age at the time of making the relevant contribution, for the contribution to qualify as a downsizer contribution. From 1 July 2022, the age limit will decrease to 60 years of age.
Retaining the Low and Middle Income Tax Offset ('LMITO') for the 2022 income year
The Government has announced that it will retain the LMITO for one more income year so that it will still be available for the 2022 income year. Under current legislation, the LMITO was due to be removed from 1 July 2021.
Increasing the Medicare levy low-income thresholds The Government will increase the Medicare levy low-income thresholds for singles, families and seniors and pensioners for the 2021 income year, as follows:
• The threshold for singles will be increased from $22,801 to $23,226.
• The family threshold will be increased from $38,474 to $39,167.
Reducing compliance costs for individuals claiming self-education expense deductions
The Government will remove the exclusion of the first $250 of deductions for prescribed courses of education. Currently, the first $250 of a prescribed course of education expense is not tax deductible. Removing this $250 exclusion is expected to reduce compliance costs for individuals claiming self-education expense deductions. This will commence from July 2022.
Getting back on your feet can daunting but help is available.
Don't wait before you Take the Steps to Recovery, to Turn your Setback into a Comeback.
Contact us, Blackburn Accounting, Your Family Business Specialists.
We offer professional services and can help you with;
• Assessing your situation
• Checking for any additional income sources, support measures or similar schemes
• Managing your expenses and repayments

We understand and encourage you not to put it off.
By contacting us today, you are taking the first steps to recovery.
Taking the Steps to Recovery
Let Blackburn Accounting help you to get back on your feet and smile again!
We are your Family Business Specialists, ready to support and guide you.

Step 1:
Blackburn Accounting will work with you to assess and determine your true position.
• We will closely examine all Business activities so we know exactly what we are dealing with
• Review the Budget and tighten as needed
• Explore small and big-ticket cost savings

Step 2:
Checking for any additional income sources, support measures or similar schemes
• Are there any Government incentive or support measures
• Discount offers or bonuses
• Check what resources are available to you, both from your own accounts as well as insurance.

Step 3:
Managing your expenses and repayments
• Negotiate with Creditors for extra time
• Pursue Debtors payments (collect sooner than later)
• Consider customer deposits or pre-paid options
• Create a Financial Plan and set priorities
With you we will develop Recovery Strategies to deal with the now and
help you implement the Steps to Recovery to Turn a Setback into a Comeback.
Take the first step to your Business Recovery, contact Blackburn Accounting today.
1. Track Your Spending
2. Set Financial Goals
3. Prioritise Your Expenses
4. Compare prices
5. Grow Your Savings
These are practical, proven Steps and Tips for setting and monitoring your financial affairs and activities. 5 Success Steps to Budgeting- Makes sense of cents!
Blackburn Accounting is qualified to provide professional services to help you with your Budget Planning.
We offer individualised service that helps you keep on top of your cash-flow, assist in strategic planning and develop your capacity for growth and expansion.
It starts with a conversation. Contact us now!
The BENEFITS of Budget Planning.
Simply, a Budget is a spending plan which helps you understand your real financial position by capturing what's going out and what's coming in. This snapshot is critical in managing both Business and personal finances.
A budget breaks down your income and expenses so you can manage your spending and saving activities, providing a true picture, thus avoiding guesswork. Maintaining an accurate Budget helps keep your spending on track, can help you and your money work smarter and may uncover some hidden cash flow problems. Problems better discovered sooner than later.
1. Tracking your spending
Knowing where your money is going by keeping a 'spending diary' is a great start to getting a true picture of your spending habits. You need to get a firm handle on what you're currently spending, what you can afford to spend, and what your priorities are. By keeping a Budget you can gain control of your money rather than money controlling you.
2. Set Financial Goals
Determine your short, medium and long term financial goals.
Once you have an overall picture for your budget, that is your net pay/income, and then expenses tracked, setting your financial goals is crucial.
Start by making a list of both short, medium and long-term financial goals that you want your new budget to help you achieve. To allocate funds accordingly to reach your goals, a good idea to determine your needs versus your wants. This applies to both business and personal financial activities.
3. Prioritise Your Expenses
It's important to prioritise your expenses to know your true situation and what your essential monthly expense are. Your categorised and tracked fixed and variable expenses will help you predict how much you have to budget.
Knowing what is an absolute necessity and having money set aside for the essentials can protect you from overspending, resulting in a 'cash' short- fall. Keeping on top of Creditors accounts, including negotiating payment arrangements are critical in managing the Budget balance. As critical is managing your Debtors to get monies owed paid in to you as soon as possible.
4. Compare Prices
If you are buying goods or services shop around and compare prices to get the best deal. Look out for packages, bonuses or incentives that can help you save money.
Review your tracked expenses to see if there are different products around such as new internet provider plans, motor vehicle deals can vary. There are savings to be found if you look.
5. Grow Your Savings
Consider setting up separate accounts if you have identified a specific goal item. A target amount can be deposited regularly without major impact and will help grow your savings.
Don't be afraid to ask for discounts, best deals or special offers to help boost your savings funds. Better in your bank account than someone else's.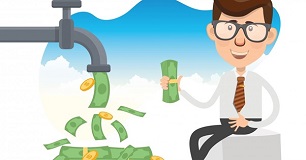 1. Determine your break-even
2. Focus on Cashflow Management, not profits
3. Maintain cash reserves
4. Use a Cashflow Worksheet
5. Collect receivables as soon as possible
6. Encourage Customers to pay faster
7. Extend payables as long as possible
8. Boost sales with creative incentives
9. Monitor Cashflow
10. Contact Blackburn Accounting for your financial & accounting advice. Blackburn Accounting your family business specialists.
If you are experiencing Cashflow problems or simply want to better manage the financial flow of your Business these 10 Top Tips are a lifeline!
Grab hold and follow the steps to help you from sinking!
1. Determine your breakeven point.
This is the point at which total revenue equals total costs or expenses. At this point there is no profit or loss.

2. Focus on Cashflow Management, not profit.
Strategies include;
• Keep your books accurate and up to date
• Adopt simple accounting practices
• Separate Business and personal finances (and expenses)
• Engage a professional Accountant for professional advice
3. Maintain cash reserves
Access to cash will make or break your Business. Always maintain a cash reserve to provide the cushion you need to manage unexpected situations. Even a small amount can help in a time of crisis.
4. Use a Cashflow Worksheet
In a nutshell, Cashflow is the net amount of cash that a company receives and spends during a given period of time. It therefore makes sound business sense to maintain a Cashflow Worksheet to capture the associated Business activities to better manage your financial affairs, including meeting compliance requirements. The Worksheet can be used to monitor and gauge inflows, income fluxes and help to avoid financial mishaps! Think of it as a lifeline for Cashflow Survival!
5. Collect receivables as soon as possible
The sooner your customers pays you, the sooner that money is working for your Business.
Consider adopting a range of payment methods including Online systems.
With the click of a button and issuing of an invoice, the money (payment) can be easily deposited directly into your account. Quick turnaround and easy as, and no waiting for a payment later.
Above are 5 Top Tips to help you survive.
We encourage, follow all 10 Tops Tips to survive your Cashflow challenges!
Step 1: Underpinning your Recovery Plan is the implementation of the best practice procedures. Maintain a disciplined approach to working capital management, focusing on increasing profitability and improving efficiency.

Step 2: Complete a Financial Health Check
Identify and check key indicators such as;
• cash balance
• value of daily sales
• value of orders
• debtors balance
• Analysis of your financial statements regularly will help you make better informed decisions. It also helps detect and respond to any adverse movements and to see opportunities.
• Analyse your liquidity, daily if necessary
• Understand the business solvency position, to reduce business stress.

Step 3: Undertake a situation analysis. This allows you to take an objective look at your Business.


5 Practical Tips to keep your cashflow up-to-date
1.Connect all your Business accounts in a system such as XERO to have the full picture. EG Bank Accounts, Loans, and Credit cards.
2. Reconcile frequently. Check your transactions (incoming/outgoing) against the records and statements to ensure they are correct.
3. Manage expenses. It is important to stay on top of Business expenditure. Correctly account for all expenses, including those you have paid personally and personal expenses paid for from business accounts.
4. Record and monitor due payment dates. Keep track of your payments. When an invoice won't be paid by the due date add an expected payment date. This gives a more accurate record of when money is scheduled to come out of your account.
5. For further advice contact Blackburn Accounting.